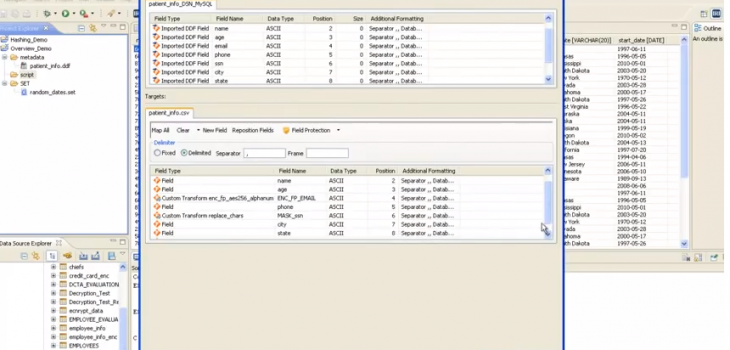 IRI FieldShield is a proven, best-in-class data-centric security package for classifying, finding, and masking personally identifying information (PII) and other sensitive data in database columns and flat-file fields. FieldShield "shields fields" with the industry's largest array of data masking functions, including of course encryption, pseudonymization, and redaction, and many other reversible and non-reversible de-identification functions that you choose according to your business rules.
FieldShield static (and dynamic) data masking technology is used in multiple industries and use cases, including data breach prevention and nullification, to data privacy law compliance (e.g., HIPAA and GDPR), to test data provisioning. Its masking functions are also folded into the IRI Voracity data management platform operations, to seamlessly combine data masking with ETL, reorg/load, DB/data migration, DB subsetting, reporting, and wrangling/analytic operations.
This video snippet below was recorded in early 2019 and shows only a very limited view of the FieldShield static data masking front-end in the free IRI Workbench job design and deployment GUI, built on Eclipse. It shows some simple ad hoc masking functions applied to a single Oracle table. The video does not show FieldShield's capabilities in data classification or discovery, multi-table or file masking, re-ID risk determination, or job auditing. Newer features (like the DB data class data masking wizard) available in the Eclipse SimRel version are also not shown. See the latest and get questions about your use case answered by registering for a live-demo.