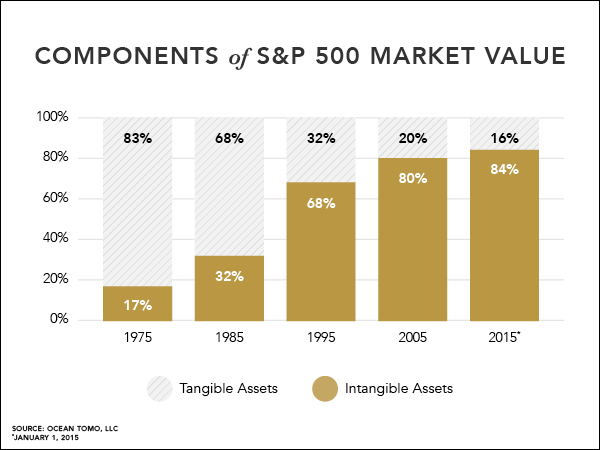 Information is the commodity of the 21st Century, and data has inherent economic value. But because information is not recorded on balance sheets, it is often overlooked. And yet, one cannot discount the fact that big data has created industries worth even more than big oil.
Although accounting and insurance firms largely fail to factor the value of data, information leaders are increasingly realizing that data — even in traditional, non-technological companies — is worth substantial sums. The Kroger Company, for example, which operates the second largest supermarket chain in the United States by revenue, generates "$100 million a year in incremental revenue by selling its supermarket point-of-sale data on a subscription basis to consumer packaged goods companies," according to TechTarget.

Source: Denver Regional Council of Governments
Infonomics Defined
Infonomics seeks to assign an accurate worth to data assets. As a term, infonomics is just the portmanteau of information and economics, and defined by the capture of real, demonstrable, and asset values of data. The word was coined in the 1990s by now-Gartner research VP, Doug Laney, who continues to develop the field of infonomics as a discipline.
Laney created seven principles that govern the specialty of infonomics:
Information is an actual asset.
Information has both potential and realized value.
Information's value can be quantified.
Information should be accounted for as an asset.
Information's realized value should be maximized.
Information's value should be used to help budget IT and business initiatives.
Information should be managed as an asset.
According to the financial advisory firm Ocean Tomo, the market value of the S&P 500's intangible assets rose from 17% to 84% of total assets between 1975 and 2015. Although Ocean Tomo anticipates the discrepancy will become marginally more balanced over the next decade, the dominance of intangible assets (not even including the unreported information assets) cannot be dismissed.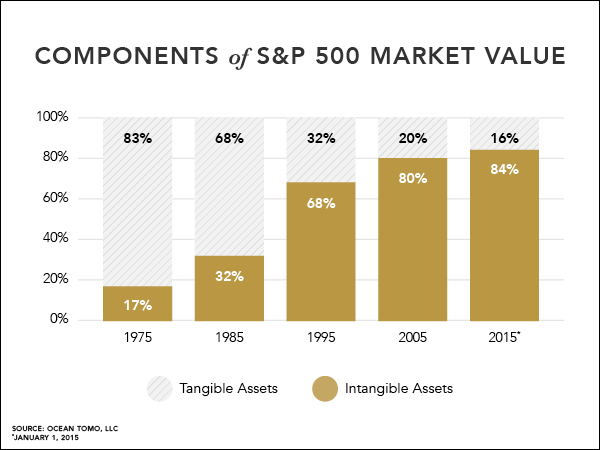 "Within the last quarter century, the market value of the S&P 500 companies has deviated greatly from their book value. This 'value gap' indicates that physical and financial accountable assets reflected on a company's balance sheet comprises less than 20% of the true value of the average firm."  — James Malackowski, Chairman, Ocean Tomo
Laney's observations affirm the value gap that Malackowski addresses. He illustrated this point with Facebook (an S&P 500 company), which had a market valuation in 2012 of approximately $100 billion, compared to the less than $7 billion the company reported. Likewise, that same year, LinkedIn had a book value of $1.38 billion (according to the Centre for Economics and Business Research), which was notably less than the company's own valuation of roughly $20 billion. It should be made clear that these gaps are not recorded on company balance sheets. Rather, they exist largely in the unvalued information assets enterprises hold.
Infonomic Methods
The goal for monetizing information is to close the gap between realized value and its potential, but untapped, worth. Laney named six ways to exploit the potential of information, and divided them into two categories:
| | |
| --- | --- |
| Foundational | Financial |
| Intrinsic Value of Information | Cost Value of Information |
| Business Value of Information | Economic Value of Information |
| Performance Value of Information | Market Value of Information |
The foundational category does not evaluate the monetary worth of information, while the financial category does by measuring information and comparing it with established accounting principles.
Foundational Methods
Intrinsic Value of Information examines the inherent worth of information. It looks at the quality of data and measures it against various criteria like accuracy, reliability, accessibility, and scarcity. An information asset competitors are less likely to have will have a greater intrinsic value to an organization. A simple assessment would be, "How good is the information?"
Business Value of Information evaluates data against business processes. An enterprise will decide which metrics to weigh, and analyze similar criteria to the intrinsic value method. However, this incorporates a business-oriented criterion, like timeliness. Laney posits, in Six Ways to Measure the Value of Your Information Assets, that "even if data is relevant to a business process, if it's not timely, how valuable is it really?"
Performance Value of Information, as Laney describes, is "much more empirical in nature" than the previous methods. Here the evaluation becomes scientific. Data is measured and analyzed on how it impacts key performance indicators (KPIs) over time. For example, the method might examine how information affects customer acquisition or resource procurement.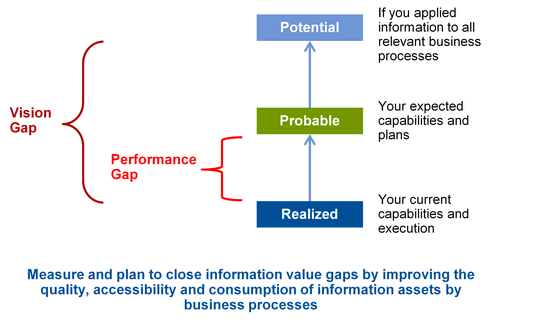 Source: Gartner
Financial Methods
Cost Value of Information measures how much it would cost an organization to acquire (or lose) specific information. This is the same way intangible assets with no market value are evaluated.
Economic Value of Information is a KPI method that examines how information assets produce revenue for an enterprise. Equally, the cost to acquire and maintain an information asset, as well as its lifespan, must also be factored into the economic value calculation.
Market Value of Information is the revenue created through the barter, trade, or sale of information, and only applies to that which can be marketed as such. Although most data does not have a market price, an organization can observe for how much competitors sell similar information. Laney notes the primary value lies in "tracking over time" — monitoring the value of information as it is distributed. As it is licensed rather than sold, the less scarce an information resource is (the more it is bought and used), the less valuable that resource becomes.
The Influence of Infonomics
While assessing the value of information is difficult, it holds great worth for organizations. The economics of information needs to become a widespread, legitimate discipline to address the problem of unvalued information. Though the expansion of the field has been modest until recently, the reliance of global business on information and its utility will necessitate deeper study, especially when digital business becomes the norm for the economic world.
The University of Maastricht in the Netherlands has already created a BSc and an MSc program in Information and Network Economics, which it also calls Infonomics. The Facebook URL directly refers to it as such, as does this video produced by the university:
Source: Maastricht University, Youtube
Although information may not currently be recognized as a monetarily quantifiable asset in accounting and insurance, its propensity for producing value cannot be overstated. If even non-tech firms are capable of generating millions of dollars by innovatively exploiting data, information must have definite value. The aim of infonomics is to capture that value.
Infonomics and You
Gartner reports that info-centric organizations, those cognizant of the value of information and capitalizing on it, have a market-to-book value averaging two to three times higher than the market average. A June 2015 KPMG survey noted that 24% of the respondents changed at least one investment opinion or valuation of a company in the last year as a result of its data and analytics strategy.
Information is actively and increasingly altering how we view and do business. It is a powerful resource with economic esteem and analytic potential, and to dismiss it is to dismiss knowledge itself. However, having information alone is not enough.
To maximize the value of information, it must be clean and managed. "Good" information is that which is accurate, accessible, homogenized, and compliant with privacy laws. Attaining quality, serviceable information requires effective data management initiatives and software. IRI software enriches the quality of data and rapidly transforms it into information within a managed, visual metadata infrastructure built on Eclipse™. The consolidated data lifecycle management facilities of the new IRI Voracity platform drive the most informational value out of enterprise data in one place.
Information is important and profitable. Treat it that way.