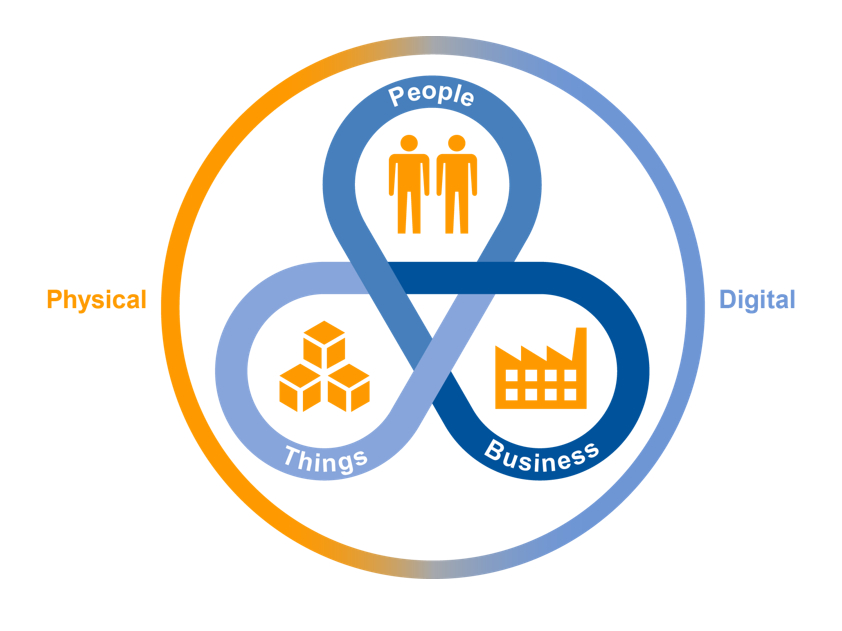 "Progress is impossible without change, and those who cannot change their minds cannot change anything."
-George Bernard Shaw
The mathematical symbol for change is the Greek uppercase letter delta: Δ. A quick observation reveals that it is an isosceles triangle, but also an arrow pointing in a specific direction. The concept of change permeates life, and so what is a metaphorical symbol for life is also true for business, as the Internet creates a constant state of change that has grown some companies and killed others. The once-ubiquitous Blockbuster and Best Buy chains were eviscerated by on-line delivery and purchasing choices these companies could not adapt to quickly enough.

What is Digital Business?
The present and future of business is now digital business, which Gartner defines as business that blurs the digital and physical worlds as people, business, and things intertwine and feedback to each other through technology: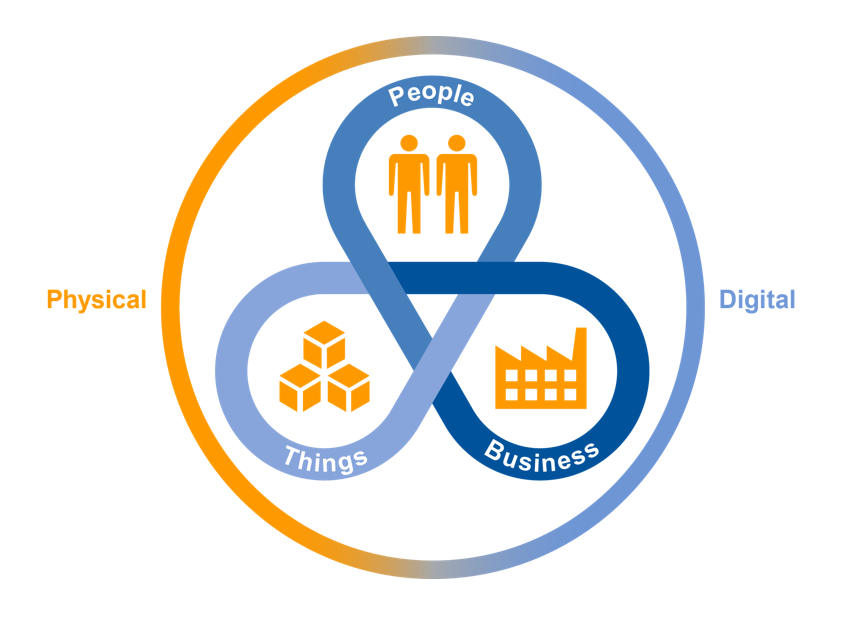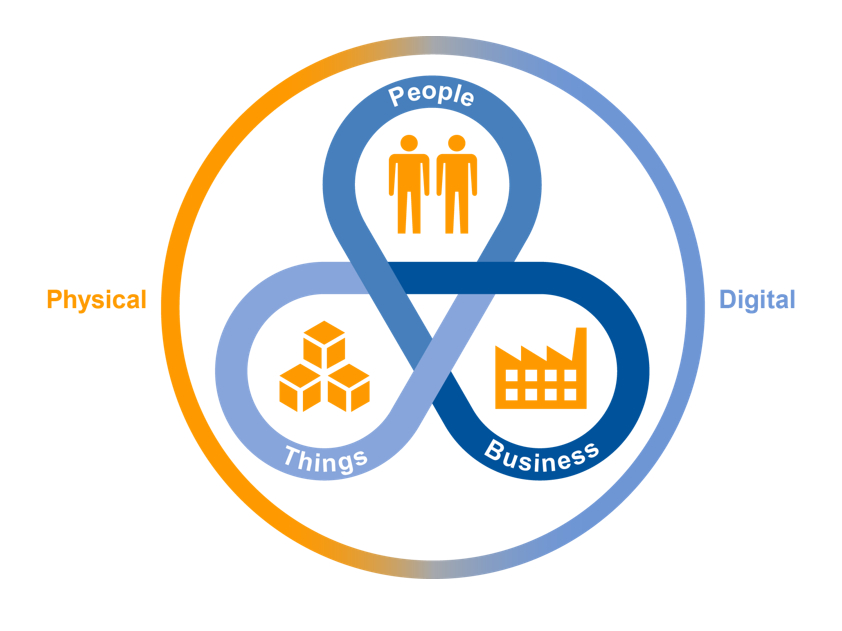 This blur also refers to a transitional fabric adjoining the physical and the intangible realms:
Physical things that can be augmented and propelled into the virtual world through the implementation of sensors and the Internet of Things; and
The creation of physical objects from entirely virtual representations (e.g., through 3D printing).
Innovation is the present and the future of all industries; our world is now one wherein even vending machines are becoming highly-technical information powerhouses. In the case of Tesla Motors, the entire concept of the automobile has been reconfigured and modernized, to the extent that the company describes its Model S as "a very sophisticated computer on wheels." The model can automatically download and install new features and safety enhancements via over-the-air software updates through a user's home WiFi network. Such updates range from installing automatic emergency braking features and notification of charging locations, to physically changing the clearance of the suspension to avoid collisions with debris at highway speed.
Market Opportunity
To illustrate the immensity of the opportunity for digital business, consider that in 2009, there were 0.9 billion products incorporating an Internet of Things (IoT) design — where a standard object has had some technological component added to it to enhance it through an exchange of information. An example is a smartphone application that automatically tracks a person's activity levels and communicates data with the person or another remote interface. In that same year, there were 1.6 billion personal communication devices.
By 2020, estimates show the number of IoT devices should surge to approximately 30 billion, and personal communication devices will rise to 7.3 billion. Seven billion people will be actively using these technologies, and those will meld analog and the digital technologies in ways never before possible.
Adoption Rates
Currently, only 22% of organizations see themselves as digital businesses ready to leverage the big data being produced, according to Gartner. However, "64% of boards reported to Gartner that they already have a director with a digital business background." Despite 50% of global IT and business executives expecting to have some level of digital business transformation by the end of 2016, almost half their CIOs actually believe their organizations have the skills to embrace and capitalize on digital business in the future. And the very idea of digital business is still novel to 59% of them.
Fortunately, digital business is always new and malleable as it is ever evolving. If handled and implemented skillfully, rewards range from increased revenues to market advantages that competitors cannot match. The key is to remain dynamic, i.e., able to change quickly to stay ahead, and thus produce a "digital deficit" for the competition. If the opportunity for digital business exists at your organization and you haven't begun to address it, we suggest you start making changes now.
Recommendations
Skillfully wielding digital business practices enables a business to serve clients more effectively, produce better results, and obtain real-time data to analyze, which ultimately lead to higher revenue flows, enhanced company awareness, and a competitive edge. The examples below may be the best way to illustrate a strategy.
A European IT solutions provider made WiFi access points available to visitors of its client's retail stores, since most customers have mobile phones automatically WiFi-enabled. Each access to the store's network would provide log (if not additional survey) data that could be extrapolated. At the minimum, the retailer could know how many visitors entered each store, the aggregate of number and average duration of visits, and how many visitors were new versus repeating. Contrast this with a store that does not have this knowledge; one in the digital dark instead of being able to respond to the data and innovate in ways that provide better visitor experiences.
Insurance company "A" has access to data from policyholder speedometer logs from which it can longitudinally analyze customer driving habits to provide customized rates and assess customers exhibiting safer speeds as empirically lower risks. Company "B" relies only on police records in assigning rates, and will not up-rate a frequent speeder fortunate enough not to get caught; but would a driver who carelessly sped once and got caught. The higher rates company B issues to cover accidents caused by the few, at the expense of better drivers, puts that company at a 'digital deficit' with respect to good drivers who will patronize the now smarter, fairer company A.  B failed to innovate, and will keep losing to competitors who do.
Of course, there are risks and security threats that must be addressed when implementing digital business practices. Consider the loss of personal information (an unquestionably unpleasant incident), which is not as bad as breaching a power grid that results in an electrical outage, or, self-driving cars forced into collisions. With big data comes big responsibility.
IRI Offering
Opportunities in digital business come from new opportunities like the ones above, as well as the optimization of existing business models through maximized information collection and use. That means being voracious about producing and consuming data sources, and being agile enough to turn that data into reliable and actionable information before your competition does. You need technology that is not only effective at both, but is also usable and affordable if you're going to be a digital business that strikes first and stays ahead.
Enter IRI Voracity, a comprehensive data management platform designed to speed and simplify the acquisition, transformation, exploitation, and curation of digital data throughout its life cycle, so that data-driven companies can become digital businesses.
Voracity is a more efficient, and more affordable, alternative to legacy ETL platforms, disjointed specialty tools for data wrangling and analytics, and complex Apache projects. With Voracity, you need not work for a Fortune 500 company to analyze and respond to data faster. It delivers the ability and agility necessary to transform a company into a dynamic competitor in a new world where the fastest adapters win.
Using either IRI CoSort or multiple Hadoop engines (MapReduce, Spark, Storm, and Tez), Voracity closes digital deficits by rapidly sifting and mining big data on commodity hardware. It removes the data processing overhead from databases, legacy ETL tools, ELT appliances, and BI layers so that data in structured, semi-structured, and unstructured sources — including IoT messages — can be accessed and assessed faster and more reliably.
Functionally, Voracity is at once versatile and consolidating. Leveraging CoSort's one-pass-for-everything 'SortCL' data manipulation program, Voracity simultaneously cleanses, transforms, masks, remaps and reports on data in the same job script and I/O. SortCL job design, execution, and management are handled in Voracity's familiar Eclipse IDE, IRI Workbench. Also provided in the GUI are facilities for data discovery, data unification (for DQ and MDM), ETL, metadata management, and analytics — either through in-memory integration with Splunk or KNIME, or via prepared feeds for other BI tools.
Thus, Voracity will support many of the requirements of the Gartner Information Capabilities Framework (ICF) and give enterprises the ability to optimize their digital business opportunities rapidly and affordability. One of these requirements is the ability to accommodate differential delivery modes (i.e., bulk-batch, real-time, virtual). Voracity supports the 'variable velocity' of inbound data sources and the ability to generate persistent or federated targets. Another requirement is agile solution development, which Voracity enables through multiple job design, debugging, and deployment methodologies that make it easy for both IT and business users to create, test, modify, and re-use metadata, business rules, and project components.
The outcome of a single platform approach addressing all these activities in one GUI also represents huge savings in learning and support in the long-term. And with affordable subscription and perpetual-use licensing models, even SMBs can leverage the latest technology and compete in the world of digital business on a newly level playing field.