Integrate, Govern & Analyze Big Data Seamlessly.
KNIME (for Konstanz Information Miner) is a free and open-source data analytics, reporting and data science environment built on Eclipse™. The KNIME Analytic Platform provides various components for machine learning and data mining through its modular data pipelining concept.
KNIME has become very powerful, and popular, in the last several years ... leading peer reviewers to suggest it is technically superior to expensive proprietary analytic and statistical packages like SAS. And like other analytic tools, KNIME has built-in ETL nodes to help you integrate and prepare data.
But like other analytic tools, KNIME is challenged by big data volume, variety, velocity and veracity.
Except when it's powered by IRI Voracity.
Fortunately, it is now possible to speed and combine data preparation and analytics seamlessly ... in the same graphical IDE for Voracity, also built on Eclipse, called IRI Workbench. Specifically, the "Voracity Provider for KNIME" is a KNIME data source node that rapidly prepares big data in Voracity, and pumps the results directly into one or more pipelined KNIME nodes through memory. So, you can analyze the data in KNIME that Voracity is integrating, transforming, cleansing, masking, and reformatting in the same I/O pass and pipeline!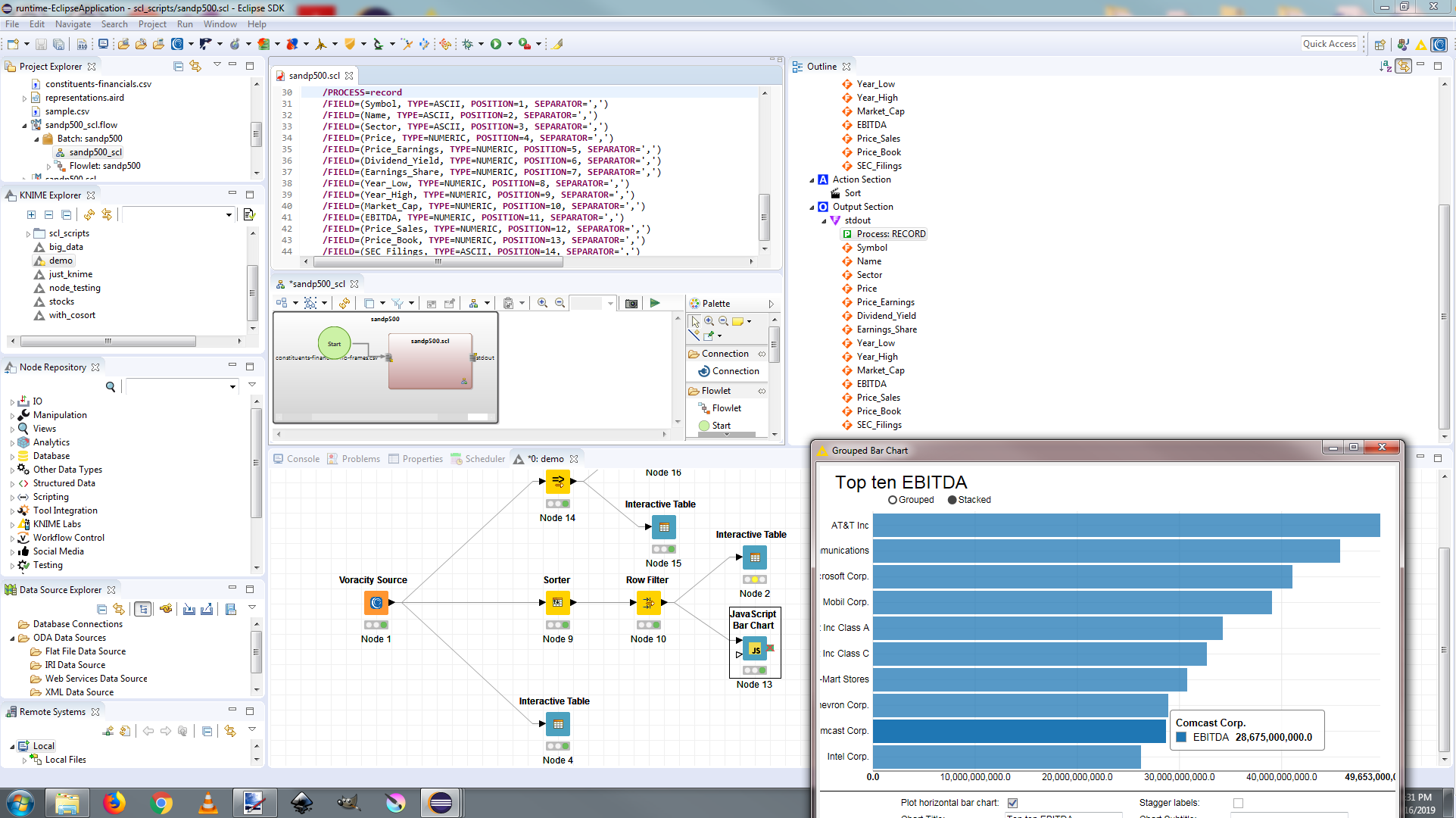 KNIME provides a huge range of extended analytics, data science, and data visualization functions to users of IRI Voracity who want to pair fast data integration and governance with machine learning, deep learning (artificial intelligence), and other uses cases that need to mine informational value from raw data stores. This is exactly the kind of simultaneous prepare-present activity that DW/BI industry founder Dr. Barry Devlin cites in his description of Voracity as a Production Analytic Platform.
So whether you're a citizen data scientist wanting to punch above your weight, or a CIO looking for a faster, bigger boat to manage a data lake for value, the Voracity Provider for KNIME is a perfect answer. It is also a far better alternative to separate, slower, and less functional free ETL nodes for KNIME, and the less integrated and more expensive legacy ETL and data wrangling tools.
The Voracity provider for KNIME is free for IRI Voracity users, and provides multiple benefits, including:
A 9X speed improvement over native KNIME data integration nodes, and consequently, much faster analytics and visualizations
The lowest-cost, highest-functioning platform combination available for big data wrangling (Voracity) and analytics (KNIME), on premise or in the cloud
Full access to all capabilities of both platforms in the same pane-of-glass, with fully customizable perspectives
Immediate, reliable, and PII-masked informational results from multiple data sources
Help from experts in both technology stacks worldwide