Overview
Discovery
ETL Implementation
Deployment
Data Quality
Federation
MDM
Licensing & Support
Challenges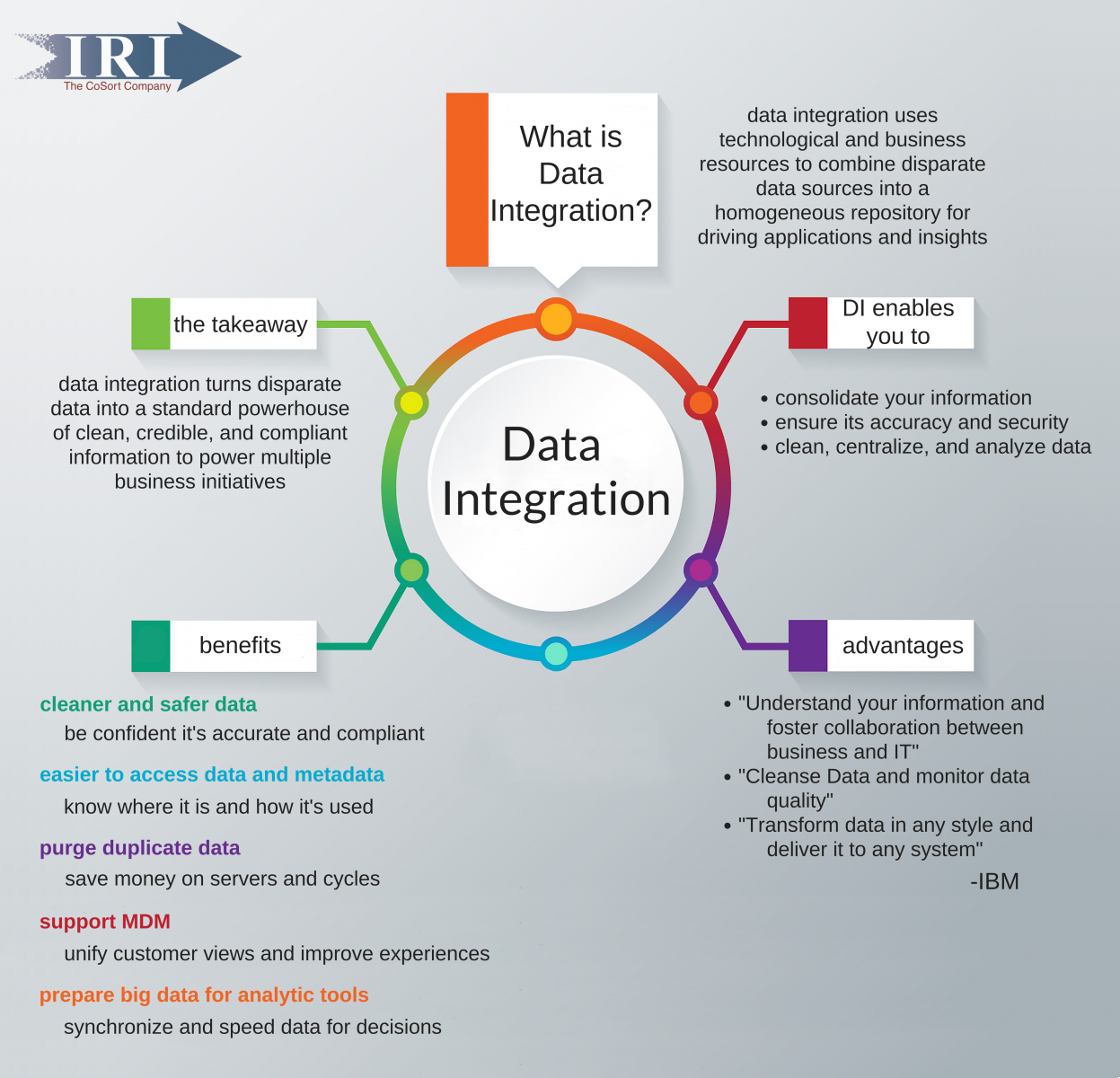 Many big data integration (DI) and staging jobs run too slowly, and bog down databases (DBs) with internal transformations. Query performance suffers, and time-to-solution for data segmentation, business intelligence (BI), and dependent downstream applications grows.
And what are the most common responses?
Procrastination - chancing SLA-restricted operations on shrinking production windows

Early betting - on complex tech like Hadoop, in-memory DBs, or proprietary ELT appliances

Partitioning - transforming data in multiple chunks and stages instead of a single-step

Open source ETL - requiring more hardware, consulting, and inefficient in-DB transforms

The Cloud - which adds security and bandwidth concerns to existing functional challenges
Beyond speed and scalability concerns lie financial ones, and ease-of-use. It takes hundreds of thousands of dollars (or more), plus months to get up to speed with mega-vendor platforms. Lengthy consulting engagements are typically required to master complex data architectures and ETL tools. Simpler ETL tools claiming fast on-boarding are limited in performance and capability.
And in the end, the ways those platforms discover, track, govern and persist data -- and manage data and master data -- are typically inadequate, cryptic, and/or inefficient.
Solutions
The IRI Voracity platform for data discovery, integration, migration, governance, and analytics is a new ETL platform for structured, semi-structured, and unstructured data that combines the power of CoSort and Hadoop with multiple metadata design and management options in Eclipse.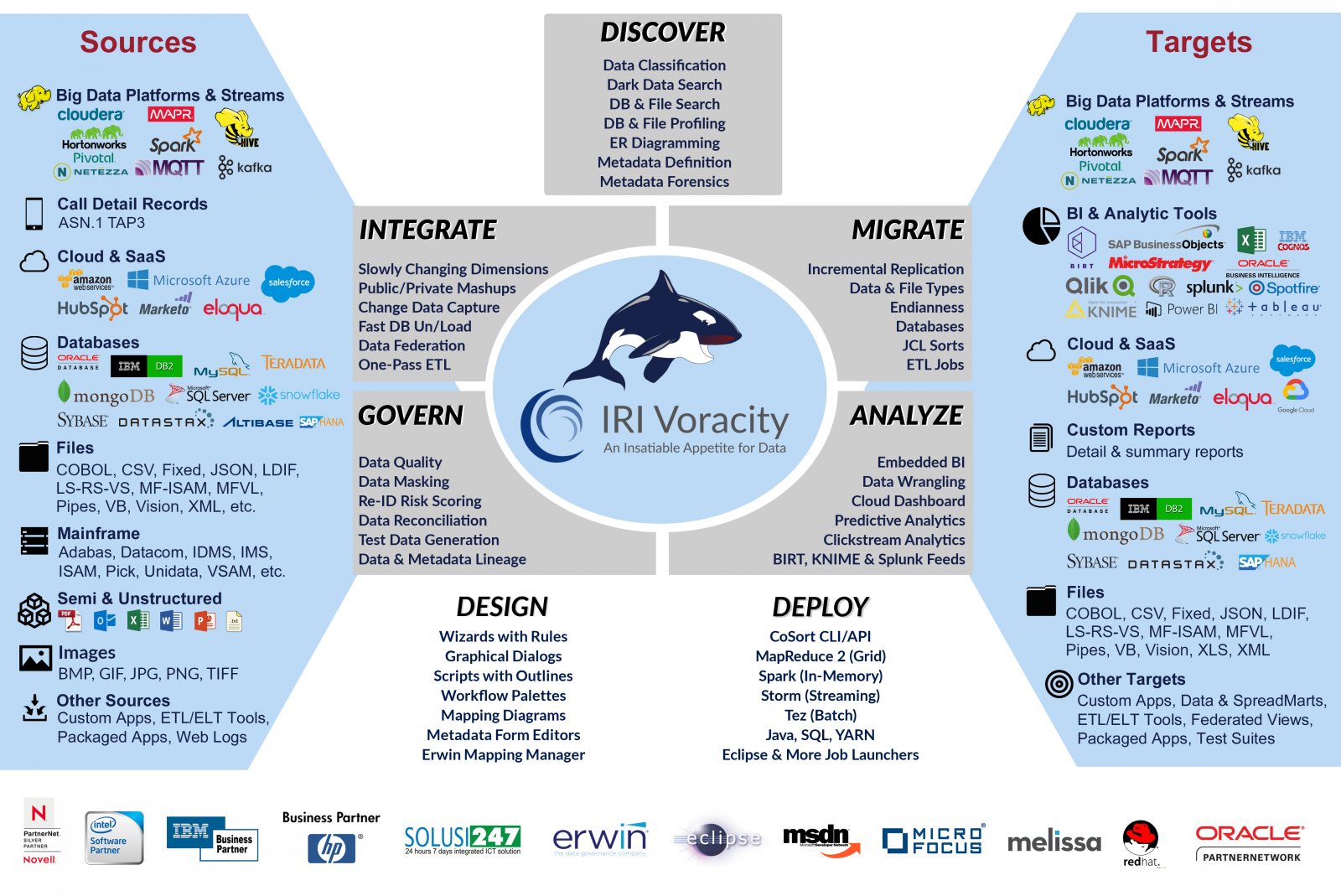 Finally: a single, simple, affordable place to move and use big data rapidly.
Voracity is an affordable one-stop-shop and GUI for almost every conceivable data management requirement. It's also a standalone ETL and data life cycle management 'platform product'.

Voracity saves money on software, hardware and consulting resources, while expanding your enterprise information management (EIM) capabilities in support of digital business initiatives -- all from one pane of glass.
Voracity workflows include simple, wizard- or diagram-built CoSort SortCL jobs to define data and its mapping. The Eclipse (IRI Workbench) IDE supportsfast, affordable ETL, and lets you:
Discover data in multiple sources with profiling and metadata definition tools
Blend disparate data sources and stage them into multiple targets at once
Transform, pivot, map, report, and protect data in the same I/O pass

Choose the best performance (CoSort or Hadoop) strategy for each workflow

Capture, act, and report on deltas (CDC) and slowly changing dimensions
Filter, de-duplicate, cleanse, validate, and otherwise improve data quality
Migrate data types, files, and DBs

Federate, replicate, and subset data

Assess, unify, and create composite or master data values and formats

Create test DB and ETL/ELT test data
Follow business rules and data privacy laws (mask PII)
Speed DB unloads, loads, and reorgs
Design basic or advanced reports, or feed and speed other analytic tools
I already spent a fortune. Can you help me just run my ETL jobs faster?
We understand that, and have been accelerating ETL tools (especially Informatica and DataStage transforms) for years.

To accelerate third-party ETL and BI/analytic tools, as well as DB operations, use IRI's scriptable, batchable transform engine(s) alongside -- and amplify your ROI in -- these platforms:
| | | | |
| --- | --- | --- | --- |
| ETL Tools | BI Tools | Analytic Tools | Databases |
| ETI Solution | BIRT | ActuateOne | Altibase |
| IBM DataStage | BOBJ | Paques | DB2 |
| Informatica PowerCenter | Cognos | R | MySQL |
| Microsoft SSIS | Excel | SAS | Oracle |
| Oracle Data Integrator | MicroStrategy | Splunk | SQL Server |
| Pentaho Data Integrator | QlikView | Spotfire | Sybase |
| Talend | OBIEE | Tableau | Tibero |
Run Voracity jobs from your tool's command-line (shell) option to prepare big data faster, and populate the DB tables or file formats your tool can directly ingest.

You'll be using the same IRI software technologies Voracity does: IRI FACT for extraction, IRI CoSort (or Hadoop) for sort/join/aggregate transformation, IRI FieldShield for data masking, and/or IRI RowGen for synthetic test data.
I want to re-platform my ETL jobs automatically.
Well, now you can. Voracity is API-integrated with AnalytiX DS' metadata hub technology so you can convert from legacy ETL products more or less automatically.

Contact your IRI or ADS representative and ask about CatFX templates for Voracity from your current ETL tool, along with any LiteSpeed Conversion services you need to help port and test the more complex mappings.

Whether you're switching ETL platforms or just starting out in data integration, use Voracity to shrink time to deployment and time to information delivery.
Request More Information