Voracity
Overview
Features
Technical Details
GUI
Platforms & Pricing
Why It's Better
Resources
IRI Voracity® uniquely delivers proven, high-performance data manipulation and management in one pane of glass. Voracity's versatility (and affordability) helps you tackle the challenges of data discovery, integration, migration, and governance -- and the changing analytic needs of digital business -- all at once.
Check out Voracity's capabilities, the challenges it now and will continue to address, and its components, below. Explore the other tabs in this section, and the solution areas throughout this web site to understand just how much your teams can cooperatively accomplish with the state-of-the-art technology in this platform.
Voracity uniquely combines the discovery, integration, migration, governance, and analysis of data in a variety of sources ... all from one place, and often in one pass. Manipulate, migrate, mask, munge, and map structured, semi-structured, and unstructured data into multiple targets at once.
Read More
Voracity's core data management capabilities leverage the functionality of the IRI CoSort SortCL data definition and manipulation program.
And as one of the original and few remaining Hadoop alternatives, CoSort SortCL also packages, presents and provisions big data. It combines: data cleansing, extraction, transformation, loading, masking, reporting -- and even synthetic test data generation -- in the same job script and multi-threaded I/O pass in your existing file system.
If you still need the scalability and capability of Hadoop, however, you are covered. Voracity supports the execution of SortCL jobs in MapReduce 2, Spark, Spark Stream, Storm, and Tez. Compare that to Hadoop distributions you're considering, or disjointed Apache projects you're trying to coordinate.
All that work in the middle starts with data discovery. Only Voracity provides four data profiling tools. And it ends with analytics, where you have three choices: embedded BI, BIRT and Splunk integrations, and/or robust data preparation for your chosen data visualization platform.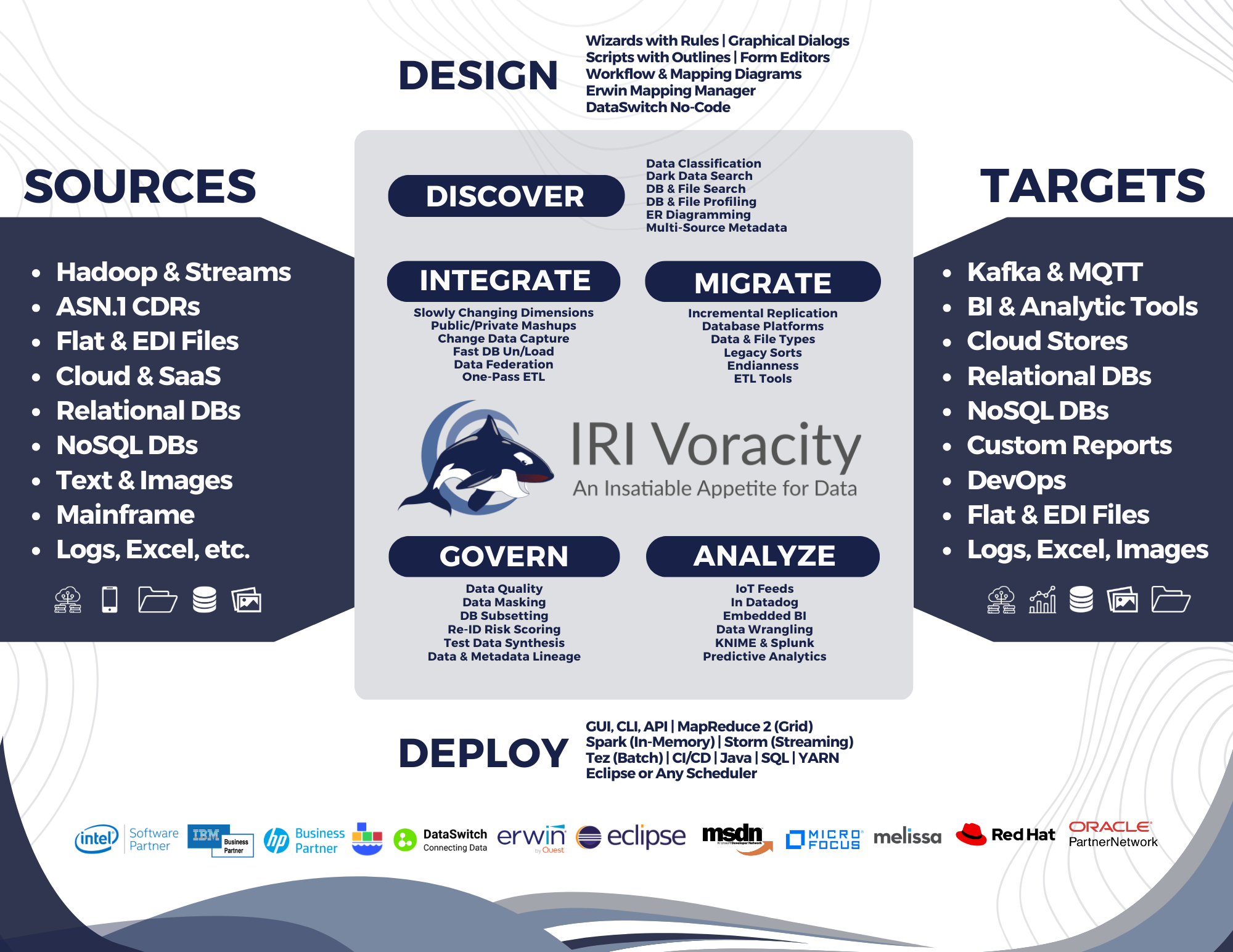 As the above schematic illustrates, Voracity delivers these capabilities from a single GUI, IRI Workbench:
Voracity addresses the challenges of data volume, variety, velocity, veracity, and value with a comprehensive data management platform that eliminates multi-tool complexity and bends the cost curve away from megavendor ETL packages and Hadoop distributions.
Read More
---
---
---
---
Voracity is powered by IRI CoSort or Hadoop engines, and everything it does is front-ended in one Eclipse™ GUI. Beyond a massive amount of included features, a plethora of free Eclipse plug-ins and proven partner technology expand what you can do with Voracity.
Read More
The default Voracity stack uses IRI Workbench for client-side design of data-driven jobs defined in portable scripts represented in multiple graphical UIs.
Many of the same jobs also run interchangeably in Hadoop MR2, Spark, Spark Stream, Storm or Tez.
Voracity metadata and related job script parameters are fully supported in the Workbench data model and optionally in AnalytiX DS Mapping Manager, for graphical creation, modification, and management.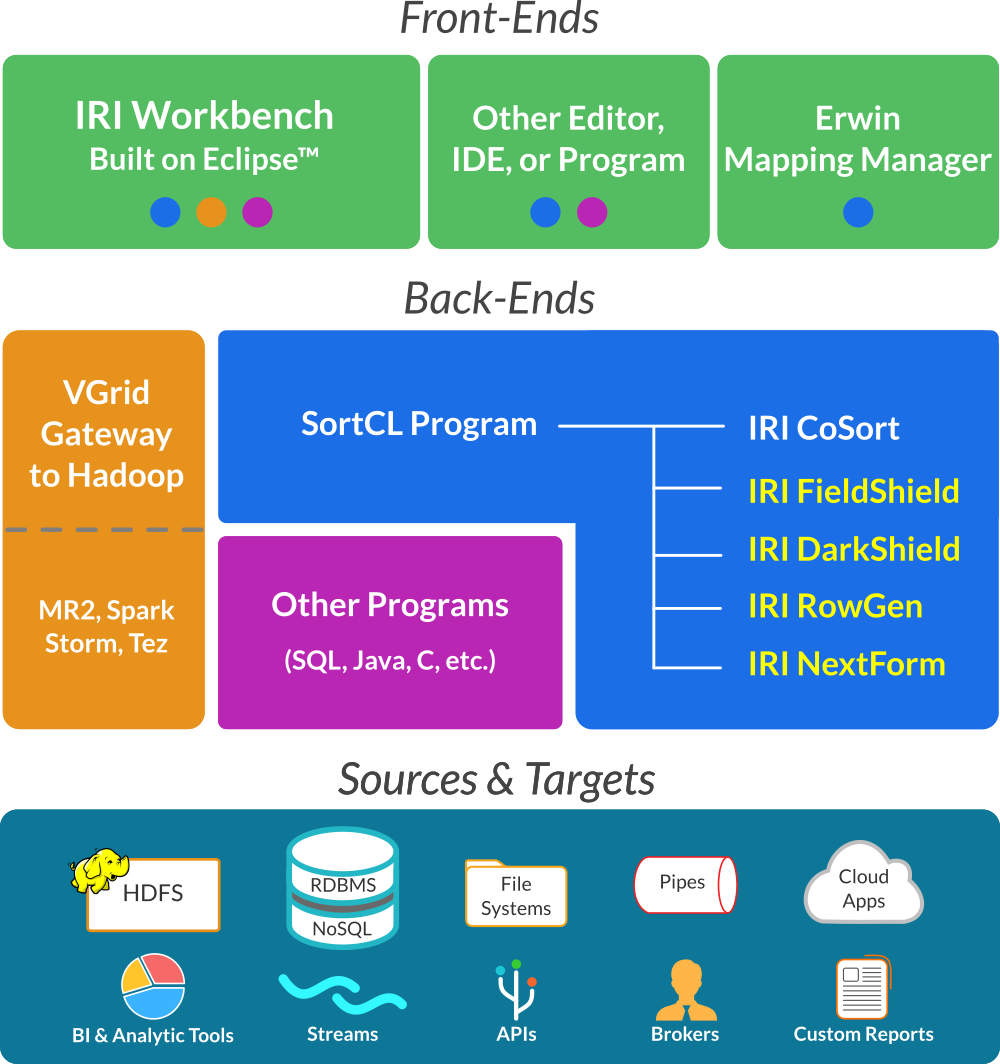 Within the base Voracity package are:
DB, flat-file, and dark data profiling, ERD, and metadata definition wizards
key data processing features of constituent IRI Data Manager products
key data security features of constituent IRI Data Protector products
multiple, re-entrant job design options and execution paradigms

runtime and metadata SDKs for application development

robust GUI help content and CLI reference manuals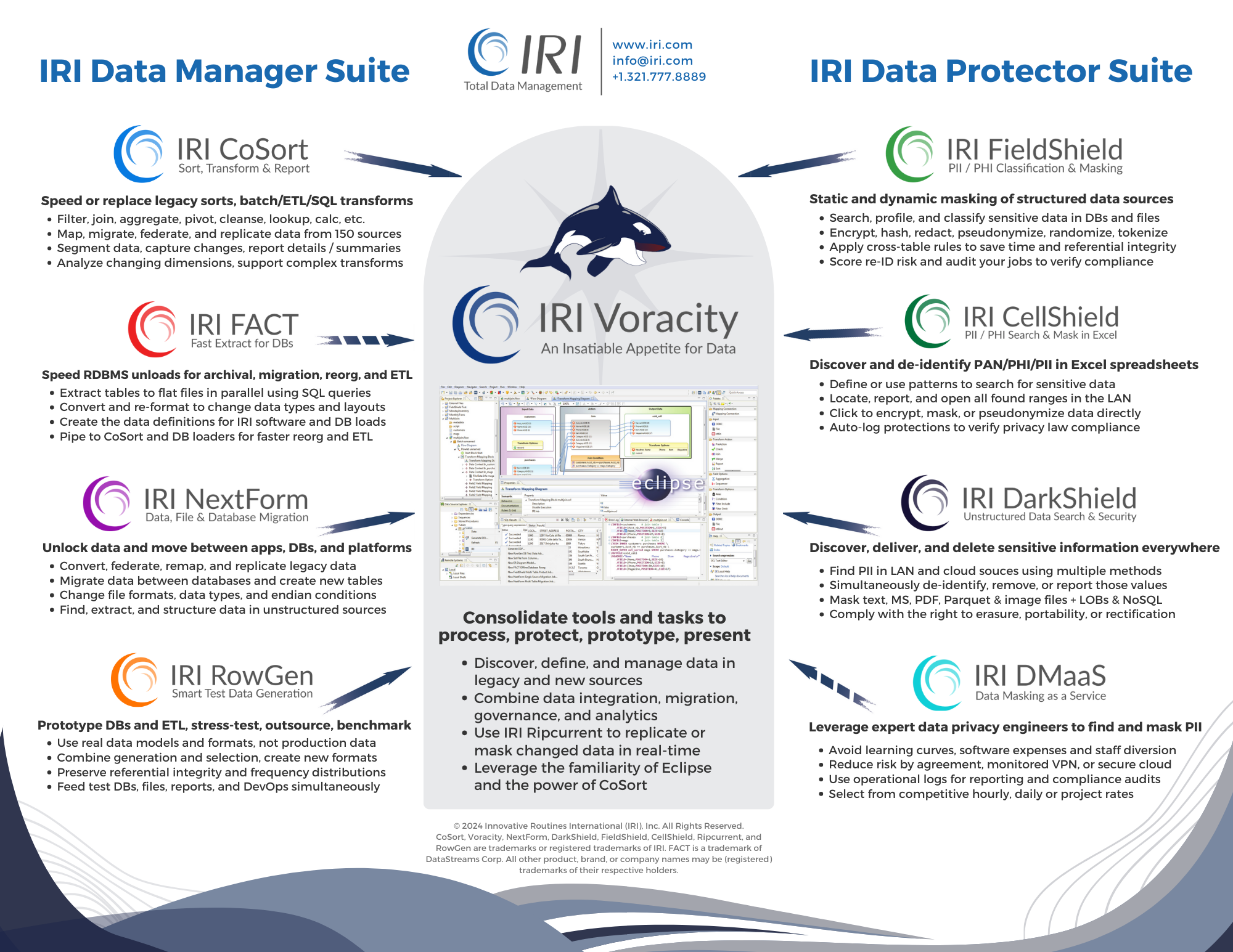 More specifically, Voracity includes free use of a rich, familiar front-end job design and management environment called (IRI Workbench), built on Eclipse™. Together with Voracity's back-end production engine you can run anywhere, IRI Workbench supports the capabilities of:
Additional capabilities in the IRI Workbench include:
default and plug-in shell UIs for command line execution and interaction

multiple data profiling and metadata discovery and definition wizards
metadata management and master data management ( MDM)
ODA-integration for BIRT (visual analytics)

Sirius workflow, transform mapping, and E-R diagrams
Beyond the base edition, premium options include:
| Voracity-Ready | Integrated Capability |
| --- | --- |
| ADS ETL Conversion | automated job/metadata migration from other ETL tools |
| ADS Mapping Manager | code-free source-target ETL mapping/flow generation |
| CONNX Drivers | move/manipulate mainframe and other proprietary data |
| DataDirect Drivers | move/manipulate big data and cloud/SaaS data |
| DWDigest | cloud dashboard for interactive BI |
| IRI FACT | parallel unload of Oracle and 6 other VLDB tables to files |
| IRI Hadoop Runtimes | MapReduce 2, Spark, Spark Stream, Storm, and Tez options |
| IRI Chakra Max | DB activity monitoring, auditing & protection (DAM/DAP) |
| WalWare StatET for R | Eclipse environment for Revolution analytics |
Whether included with the base Voracity package, or installed as partner technology, everything runs in the IRI Workbench and leverages the same open data and manipulation metadata infrastructure for job management and deployment ... inside or outside the GUI.

See the product-function matrix on this page to see what's provided at a glance, and review the feature-benefit charts on this page for more details and links.