Overview
Anonymize
ASCII De-ID
Encode
Encrypt
Mask
Randomize
Manipulate
De-Identification
De-identification refers to processes that disassociate personally identifiable information (PII) within protected health information (PHI) repositories and other "data at risk."
PHI de-identification is a specific requirement in the healthcare industry, where for example, it is used in both "safe harbor" and "expert determination method" practices in medical research (to remove patient identities from study models). De-identification is also a blanket term referring to the anonymization or masking of PII in many other industries.
The most recent Security Rule in HIPAA regulations (45 CFR Parts 160 and 164) spell out the compliance requirements for those entities managing PHI. HIPAA rules apply to 18 specific identifiers:
| | | |
| --- | --- | --- |
| Name | Address | Birthdate |
| Phone # | Fax # | Email Address |
| Social Security # | Medical Record # | Health Insurance Beneficiary # |
| Account # | Certificate # | Vehicle ID # |
| Device ID # | Personal URL | IP Address |
| Biometric ID | Facial Image | Other Unique ID Code |
Each of the data masking software products in the IRI Data Protector suite helps you find and classify, and then protect PII, PAN, PHI, etc. in multiple data sources for Safe Harbor rule compliance. They also work hand-in-hand with free, advanced re-ID risk scoring technology for compliance with the Expert Determination Method rule.
Which Data Masking Tool Should I Use?
Which Data Masking Function Should I Use?
Compliance
HIPAA compliance requires either:
Anonymization
Manipulating, masking, or removing these identifiers so that it is difficult or impossible to restore the original data. Any remaining data cannot be linked to an individual.
De-Identification
Stripping the identifiers, and providing expert verification that the statistical risk of re-identification is low.
Use IRI software yourself, employ IRI Data Masking as a Service (IRI DMaaS), leverage external or embedded re-ID risk scoring technology, and/or work with expert IRI partners like KI Design to help you de-identify sensitive data and comply with data privacy regulations.
Systematically analyze covered entity gaps, apply the right de-ID functions using IRI software, and certify the statistical likelihood of re-identifiability for HIPAA and HITRUST certification purposes.
Learn more about HIPAA and IRI encryption methods here: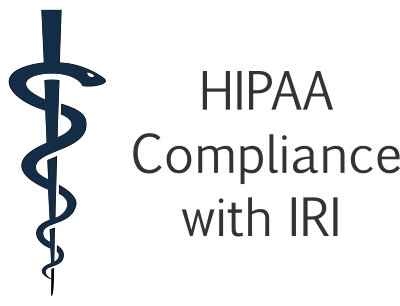 Click on the tabs above or expand the solution links on the left to explore more data masking methods.