2020
At the beginning of this new decade and year 42 at IRI, company CAGR accelerated due to keen interest in Voracity and its constituent products' relative speed and affordability in data: classification-discovery, integration-transformation, migration-replication, masking-cleansing, and reporting-wrangling.
More specifically, the company began to reap the rewards of its innovations in finding and masking PII in unstructured data sources, cloud silos, and test data environments. IRI released new versions of its data masking products this year -- IRI FieldShield 5, DarkShield 4 and CellShield 2 -- to provide those better data discovery and reporting features, along with more connections to external logging frameworks.
2021
Despite the continuing ups and downs of the COVID era, IRI saw even sharper interest in the Data Protector Suite (masking tools), and increased its R&D around EDI, NoSQL, and image masking (particularly for the healthcare market). New integrations with DevOps pipelines and partnerships with test data management portals like Windocks, Cigniti, and ValueLabs hold further promise.
Growth continues apace on the data management side of the business as well, thanks to upgrades in the Voracity platform like the Data Vault 2.0 RDB migration and test data generation wizard, new data quality and generation features in IRI Workbench, plus the back-end upgrade to CoSort 10.5, and support for more data sources like ASN.1 CDRs, Excel, cloud storage systems, and Parquet files.
Another exciting partnership with DataSwitch promises to widen Voracity's reach to those interested in legacy ETL tool migration, cloud job orchestration, AI-driven data engineering, and self-service analytics.
2022
IRI continued to innovate in unstructured data discovery and masking silo supports and performance optimization, while also working to revamp the DarkShield wizards in IRI Workbench, explore more ergonomic convergence between FieldShield and DarkShield, and enhance the Voracity data classification, RBAC, and logging infrastructures. Eventually IRI also hopes to provide optional as a service offerings like BDaaS built atop OCI and other CSP infrastructures like AWS, Azure and Google which customers directly manage.
In 2022, IRI also released a real-time DB change data capture module in Voracity called Ripcurrent, which DBTA named a Trend-Setting Product in 2023. Ripcurrent automates real-time database data replication, incremental data masking, and schema change notification.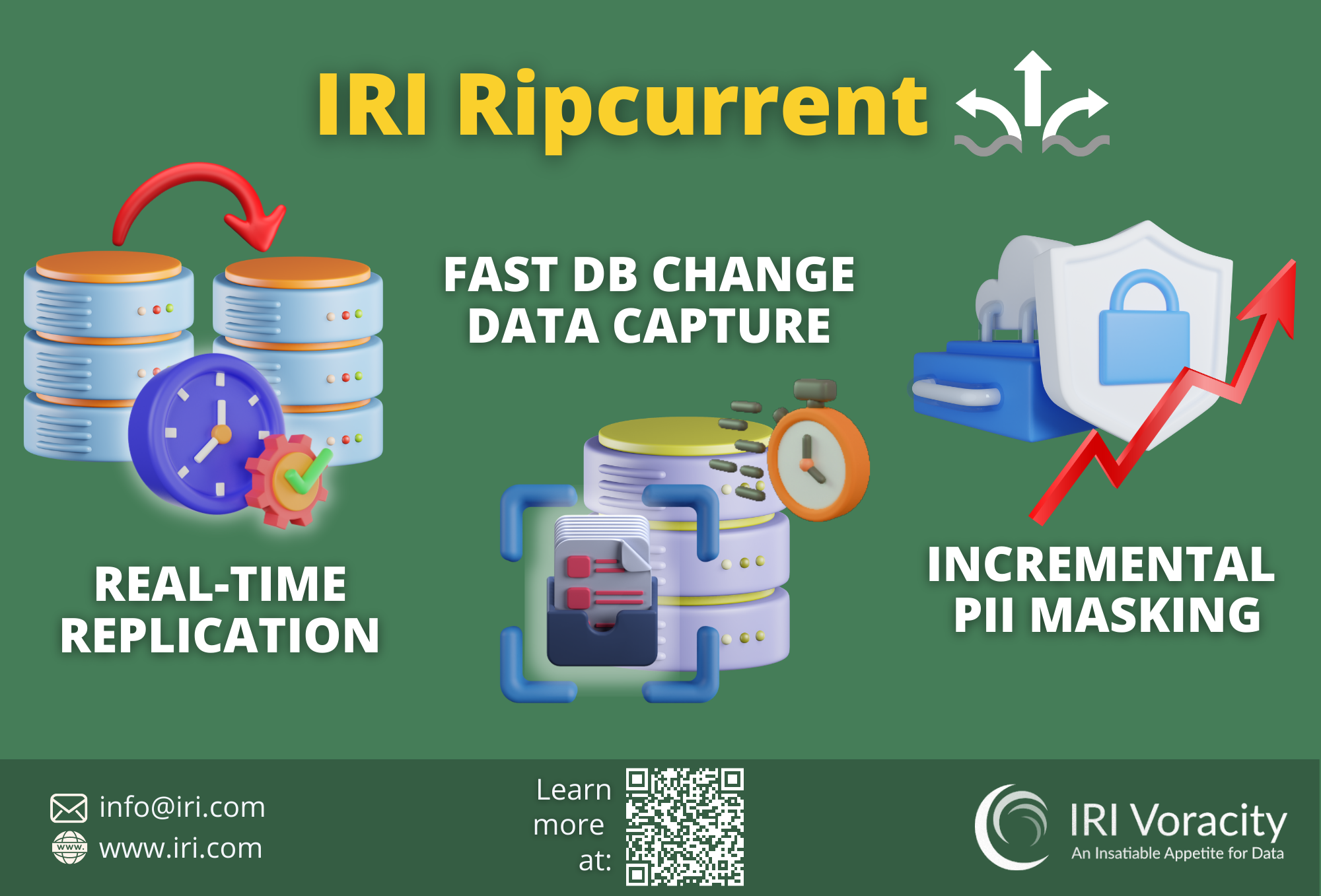 IRI Ripcurrent
2023
In 2023, IRI is releasing the next versions of IRI DarkShield (V5), CoSort (10.7), and Voracity (V4) built on the latest version of Eclipse and JDK17. Featured with these upgraded releases is ergonomically improved data classification in IRI Workbench and new runtime operational governance features for granular RBACs and robust log creation, management and analysis.