Overview
Speed Your ETL Tool
Leave Your ETL Tool
Build New ETL
ETL & Beyond
The Biggest Challenges in Data Integration
Speed in Volume
Most data integration jobs are performed in legacy ETL or ELT tools that rely on compiled Java programs or inefficient in-DB transforms. Job design and execution time suffers. So do all the downstream queries and applications that depend on those jobs.
Legacy Tool Costs
Hundreds of thousands of dollars and many months are spent building and supporting jobs in legacy ETL tools. Multiple users and licenses add up quickly, and dominate project budgets. SMBs are stuck with open source tools that cannot perform.
Data & Design Complexity
Long consulting engagements are needed to manage increasingly complex data (variety, velocity, and veracity) and workflow architectures. Less versatile tools claiming fast onboarding lack data governance and other functionality. The methods most people have to acquire, discover, trace, govern, and persist data are disjointed, cryptic, or inefficient.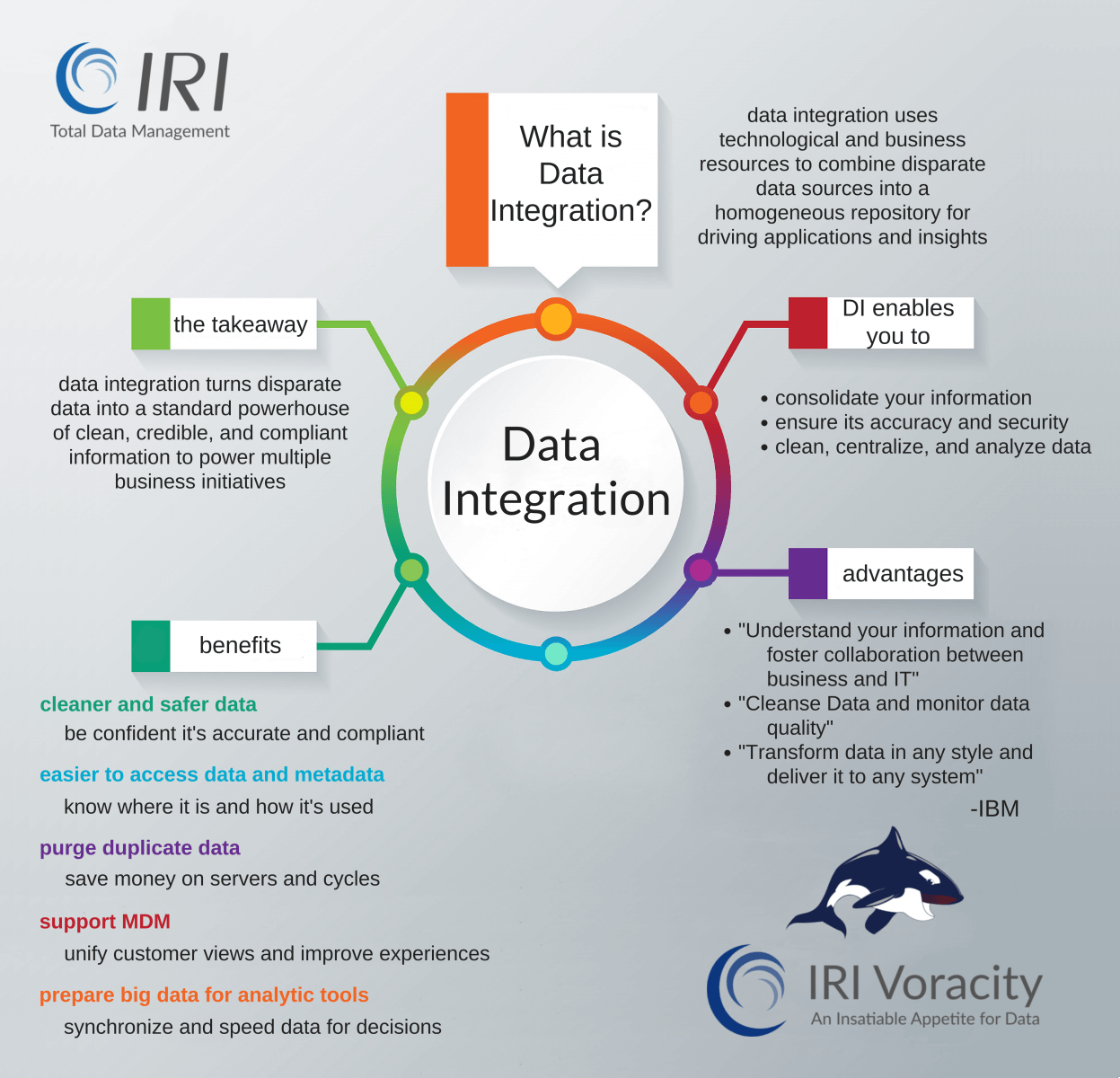 ​
Common Responses and Results
Procrastinating - chancing SLA-restricted operations on shrinking production windows
Betting - on complex Hadoop programs, NoSQL or columnar DBs, or proprietary ELT appliances
Partitioning - transforming data in multiple chunks and stages instead of a single step
Open Sourcing - needing more hardware to overcome slow engines
Outsourcing- depending on costly BPO tools, talent, and turnover
Cloud Sourcing (iPaaS) - adding security and bandwidth concerns to ongoing functional challenges
---
Real World Solutions
You can now solve the speed and cost problems of legacy ETL tools and the complexity problems of speciality software and Apache projects with a modern, all-in-one platform for data discovery, integration, migration, governance and analytics. IRI Voracity is the proven high-performance alternative for building new data integration environments, accelerating legacy ETL tools, or automating your move away from them.
Voracity is not only ideal for fast, affordable ETL operations. It is a future-proof solution stack for multiple data management use cases involving structured, semi-structured, and unstructured sources.
Voracity uniquely combines the seamlessly interchangeable power of IRI CoSort and Hadoop engines with multiple job design and deployment options in Eclipse. In fact, Voracity has more job design, deployment, and licensing options than any other data integration tool.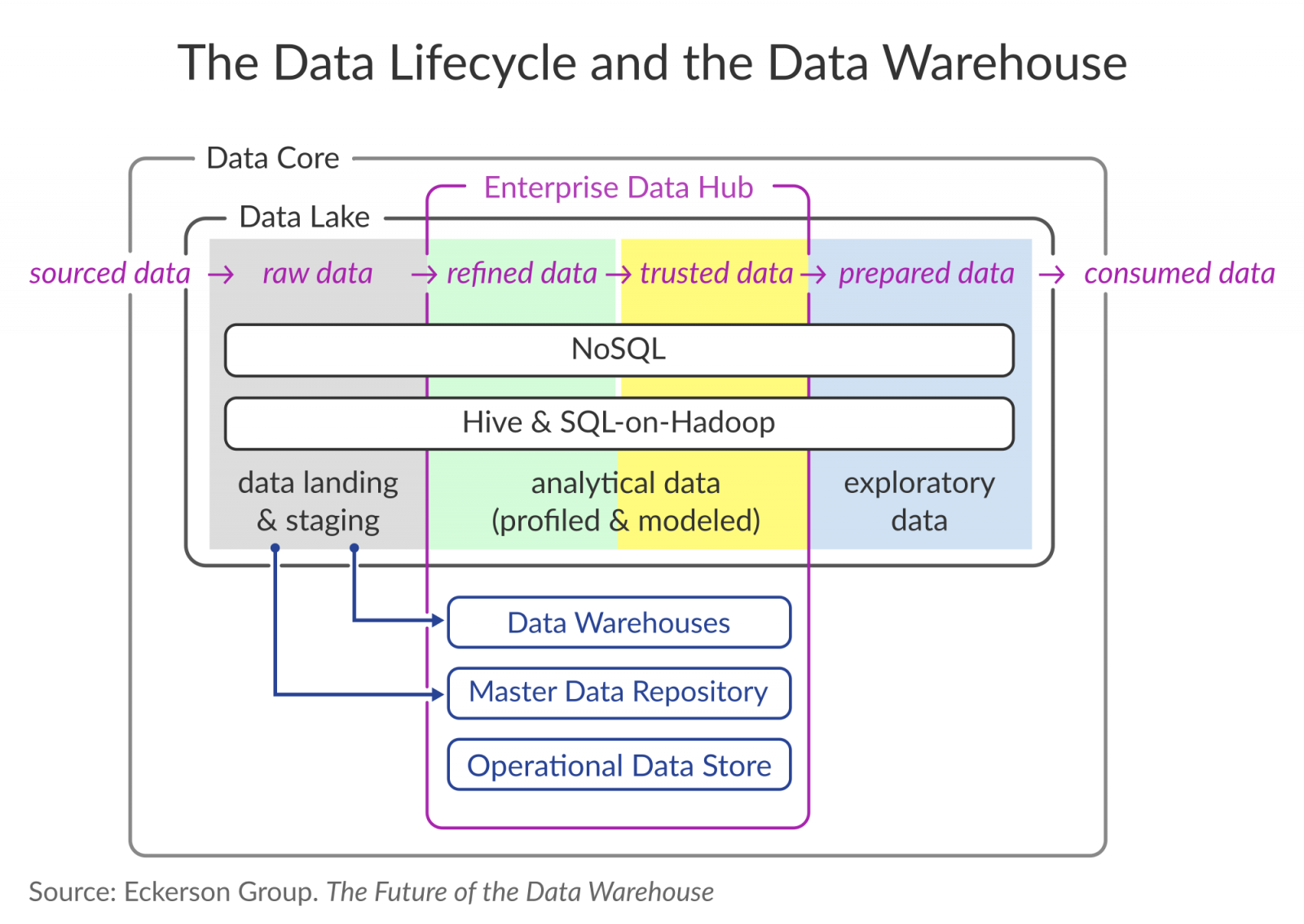 White Paper: Modern Data Integration Paradigms
Learn about the latest data integration paradigms in this comprehensive white paper from the Bloor Group. It highlights the past, present, and future of Operational Data Stores, Data Warehouses, and Data Lakes.
Download Now
---
Learn how Voracity will help you build or improve your data integration paradigm:
---
Enlarge the diagram and watch the video to see how Voracity reflects only the best parts of what other ETL tools offer: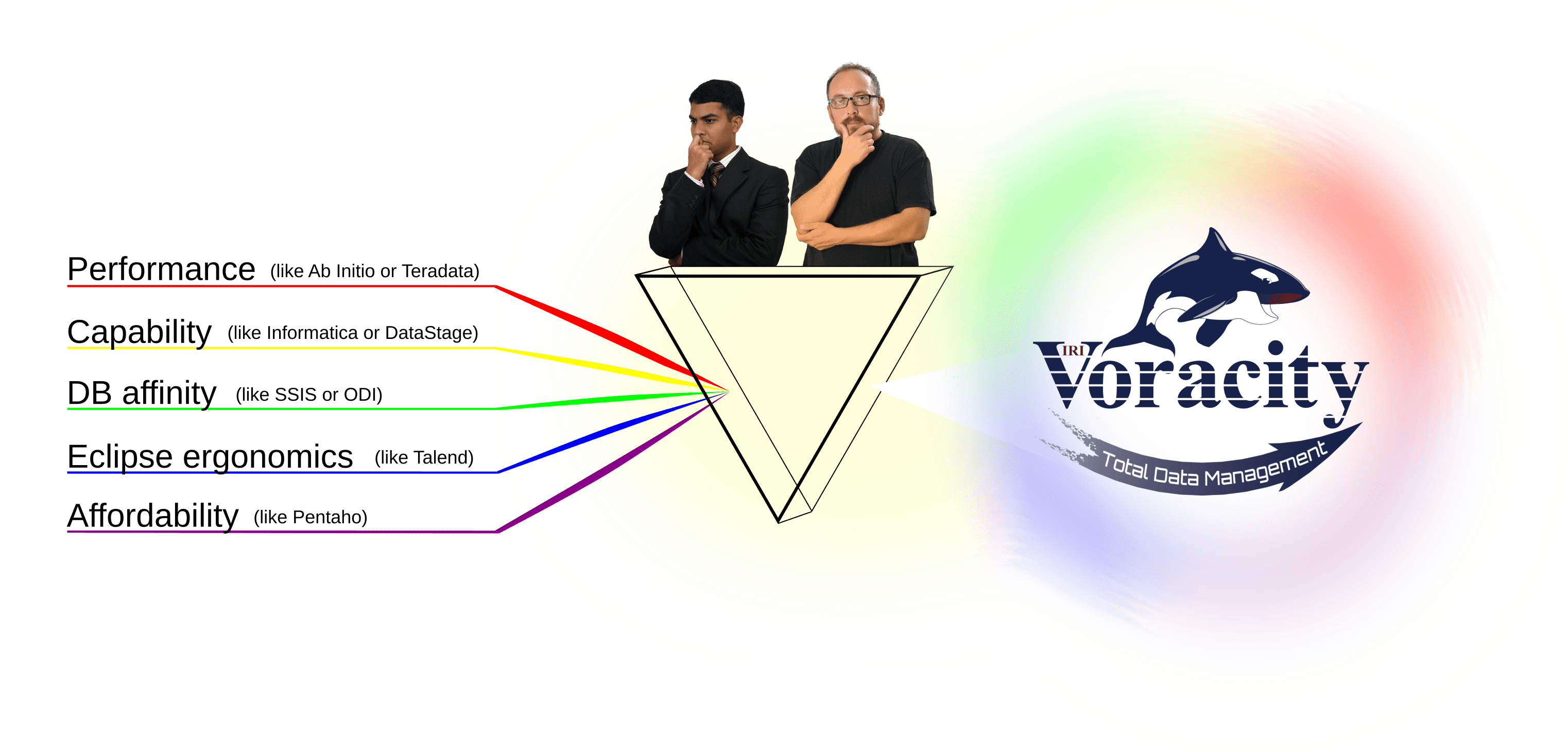 ​
​
​
Finally: a single, simple, affordable place to move and use big data rapidly.
---
Voracity is a modern one-stop-shop for rapidly managing and leveraging enterprise data. It is also a standalone ETL and data life cycle management platform product that also packages, protects, and provisions all forms of "big data.".
Voracity saves money on software, hardware and consulting resources, while expanding your enterprise information management (EIM) capabilities in support of digital business initiatives -- all from one Eclipse pane of glass.
What does Voracity include?
All the features/functions listed below are supported in the IRI Voracity data management platform and constituent IRI Data Manager and IRI Data Protector suite products.
GUI refers to the IRI Workbench Graphical User Interface. IRI Workbench is a free Integrated Development Environment (IDE), built on Eclipse,™ for integrating and transforming data with the SortCL program in Voracity, IRI CoSort, and all other IRI software.
DTP refers to the Data Tools Plugin (and Data Source Explorer) in the IRI Workbench. DDF refers to Data Definition Files, the metadata for source and target data layouts.
Operation
Description

Locate and classify data via dictionary, fuzzy-match, and pattern searches through DBs, files, and "dark data" documents. Perform traditional DB profiling and E-R diagramming on connected tables.

Create and modify jobs in multiple ways: a visual ETL workflow palette, end-to-end job wizards, GUI dialogs, batchable4GL scripts modeled and outlined in the GUI's syntax-aware editor, and AnalytiXDS Mapping Manager.

Connectors

All structured data assets (including RDBs, LDIF, CSV, XML, COBOL, and other sequential files) available in the project explorer, data source explorer, and remote systems explorer. Support is also available for mainframe index files, semi-structured files, ASN.1-compatible CDRs, multiple legacy/proprietary formats, and big data and cloud/SaaS platforms; see the complete list

here

.

Job Wizards

Specify E, T, and/or L jobs as well as standalone or integrated data cleansing, unification, masking, conversion, reporting, and test data generation jobs.

High performance, standalone and integrated

ETL

steps through

IRI FACT

,

IRI CoSort

, and bulk DB loaders in Voracity (as well as more real-time via ODBC select/update). Or run many of the same transformation and masking jobs (without re-coding) in HadoopMapReduce2, Spark, Spark Stream Storm, or Tez.

High performance "E" and pre-sorted "L". Design and manage DB "T" jobs in the built-in

SQL editing and execution

environment.

Generate detail and summary reports in the same-pass, or

hand-off

data to BIRT, et al.

Encrypt, mask, de-ID, encode, hash, randomize, pseudonymize, tokenize, blur, or redact PII.

Improve data quality with a variety of data scrubbing and standardization techniques.

Acquire, filter, subset, re-map and/or copy data from old to new data stores.

Version & Compare

Update, check-in, manage, and share metadata and jobs in

GIT

, or other SCCS.

Repositories

For DDF

metadata

, master data formats, set (lookup) files, rules, flow, and job scripts.

Data Views

Multiple editor and cell display format supports for tables, files, and report formats.

Schema

Use static or create dynamic schemas via target mapping and table creation options.

Lineage

Data mapping and search functions support data lineage and impact analysis. Track and compare metadata and other resources (scripts, rules, templates) in free version control hubs or AnalytiXDS.

Job Fragments

Save, reference, and re-use job and metadata subsets in standalone, portable .DDF files.

Compare files or tables to identify, report on, and feed updates for smaller, real-time ETL.

Report on values from "fuzzy" lookup logic where they satisfy 'other than equal' criteria.

Windowed Aggregates

Perform aggregation within specified row ranges for fair cost accounting and other apps.

Rules

Define, store, and re-use field-level business rules for data transformation, protection, and test data generation.
We already spent a fortune. Can you just help us run our ETL jobs faster?
We understand that, and have been accelerating ETL tools (especially Informaticaand DataStagetransforms) for years. To accelerate third-party ETL and BI/analytic tools, as well as DB operations, use IRI'sscriptable, batchabletransform engine(s) alongside -- and amplify the return on your investment in -- these platforms:
ETL Tools
ETI Solution
IBM DataStage
InformaticaPowerCenter
Microsoft SSIS
Oracle Data Integrator
PentahoData Integrator
Talend
BI Tools
BIRT
BOBJ
Cognos
Excel
MicroStrategy
QlikView
OBIEE
Analytic Tools
JupiterOne
R
SAS
SpotFire
Splunk
Spotfire
Tableau
Databases
DB2
Greenplum
MySQL
Oracle
SQL Server
Sybase
Teradata
Run Voracity jobs from your tool's command-line (shell) option to prepare big data faster, and populate the DB tables or file formats your tool can directly ingest.
Use the same high-performance data movement engines that Voracity can: IRI FACT for extraction, IRI CoSort (or Hadoop) for data transformation, IRI NextForm for data/DB migration and replication, IRI FieldShield for data masking, and/or IRI RowGen for generating test data.
Can we replace our legacy ETL tool automatically?
Yes, now you can. Voracity is API-integrated with AnalytiX DS metadata hub technology so you can convert from legacy ETL products more or less automatically and affordably.
Contact your IRI or AnalytiX DS representative and ask about CatFX templates for Voracity from your current ETL tool, along withanyLiteSpeed Conversion services you need to help port and test the more complex mappings.
Whether you are switching ETL platforms or just starting out in data integration, use Voracity to shrink time to deployment and information delivery.