Overview
Profile
Encrypt
Redact
Pseudonymize
Apply Rules
Edit, Run & Share Jobs
Risk Score
IRI FieldShield® is the compliance industry's most robust data discovery and masking tool for personally identifiable information (PII) in structured and semi-structured data sources.
FieldShield finds, classifies, and secures data in relational database tables at the column level and in flat files at the field level. FieldShield centralizes and automates data classification across an entire database instance and directories at once, and you can use those same classes to mask PII across multiple databases and directory structures globally.
FieldShield combines the power of IRI CoSort (for speed in volume) with the familiarity and flexibility of Eclipse for job design and metadata management.
Developers, DBAs, or anyone with some IT background on a compliance team, can create, run, and manage data classes, masking rules, and projects for FieldShield:
on the command line
within batch scripts
inside programs or SQL (via SDK)
in IRI Workbench, the powerful (and free!) graphical IDE built on Eclipse™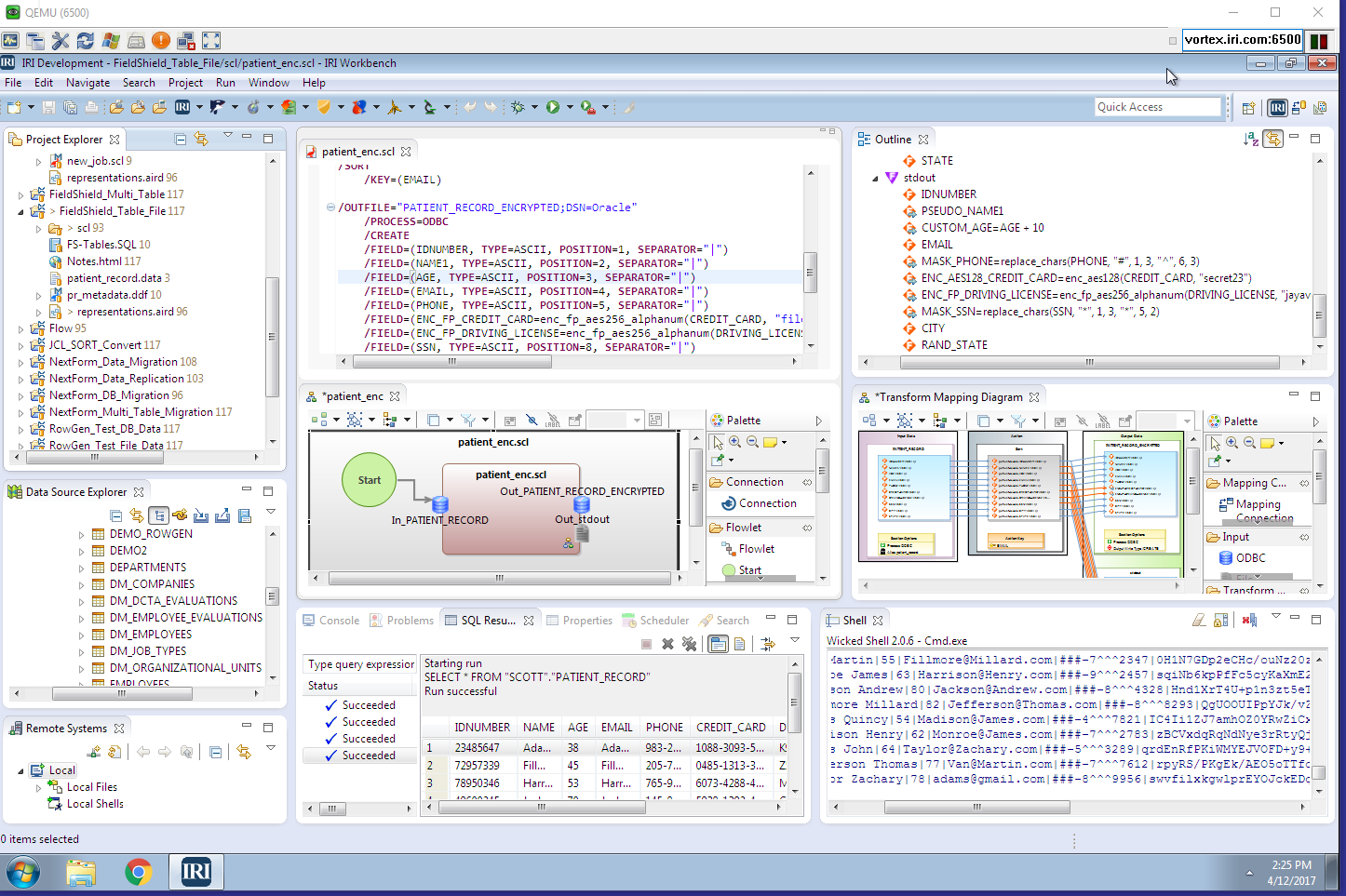 Because FieldShield is front-ended in IRI Workbench, you can create jobs with:
user-friendly script or batch-task generation wizards which integrate with data classification and metadata provisioning modules
a syntax aware, outline-equipped editor connected to graphical parameter dialogs
worfklow and transform mapping diagrams with intuitive design palettes powered by Sirius
a dynamic job outline linked to GUI dialogs
erwin Mapping Manager or other applications using the IRI 'Gulfstream' API
IRI Workbench includes all the graphical job design and management front-ends involved in FieldShield-related:
data connections and classifications
data profiling and searching
data masking rule application and target reformatting
re-ID risk determination and score reporting
SQL and command-line operations
job scheduling, auditing and sharing.
If you use FieldShield as part of an IRI Voracity platform license, IRI will also support your use of workflow and transform mapping diagrams, or FieldShield jobs generated by erwin Mapping Manager. Voracity users also have access to IRI CellShield EE and IRI DarkShield operations for finding, classifying, and masking PII in Excel, NoSQL, and many other unstructured data (file, document, image) sources, plus IRI Data Manager suite tools for ETL, data and DB migration, test data generation, DB subsetting, and more.