Overview
Package
Protect
Provision
Structured Data
Semi & Unstructured Data
With/out Hadoop
Use Cases
IoT
Bootcamp
​
When it comes to processing big data, most people think they need another IT fabric like Hadoop or Teradata, an in-memory or columnar database like SAP HANA or Vertica, a DB or ELT appliance like Exadata or Netezza, or a complex ETL tool like Informatica or Ab Initio. Do you have the time, money and expertise to take that on?
What if there were a proven, much more affordable, high-performance data processing and governance platform built on Eclipse that exploited existing file system and HDFS resources (data and engines) interchangeably?
Cover Story: IRI Voracity Featured Among Top 10 Best Hadoop Solution Providers
Click the box below to see the seamless processing choices that only IRI Voracity delivers for big data transformation, masking, and generation.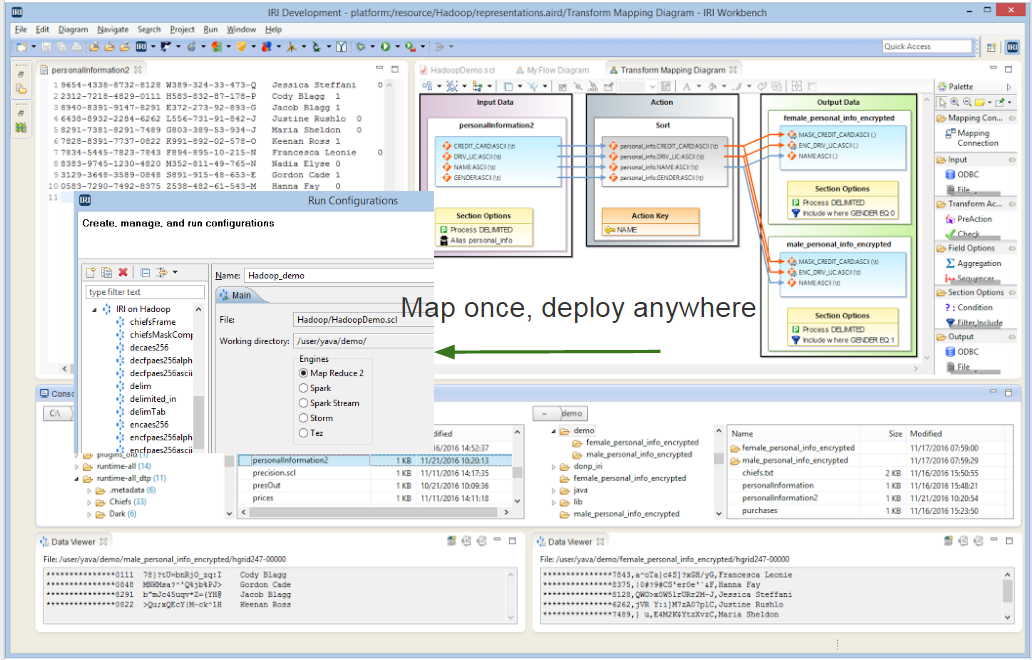 ​
How do you want to multi-process big data workloads?
With Hadoop
IRI Voracity leverages the performance, scalability, load balancing, and automatic failover capabilities of MapReduce 2 (MR2), Spark, Spark Stream, Storm, or Tez. Voracity runs most CoSort (SortCL) jobs in these engines based on availability and need. Voracity works in Cloudera, HortonWorks, and MapR distributions. IRI will also provide its own Hadoop distribution on-premise or in the cloud, and later in a hardware appliance that includes everything. This article shows how to run Voracity jobs in Hadoop.
Without Hadoop
IRI CoSort, the proven big data processing alternative to Hadoop, provides fast, intuitive, inexpensive, and non-disruptive processes. It removes the skills gap and support costs around Hadoop, and it does not require the time, money, or manpower to leverage big data. CoSort is a low-cost, low-impact, and low-risk option essential for small and medium-sized business or enterprise line of business teams that love even its multi-terabyte performance.
Whether your data sources are in a standard Unix, Linux or Windows file system, in HDFS, or managed in the proprietary systems above, you can manage it all faster and cheaper in Voracity using a common metadata and free Eclipse IDE called IRI Workbench.
With Voracity, it's no longer a matter of homogeneous data processed heterogeneously, or vice versa. It's about having a seamless, unified, metadata-driven enterprise information architecture ... one that gives you control over heterogeneous data sources and processing engines ... and one that meets changing data integration, governance, and analytic needs.