Enterprise Edition (EE)
IRI CellShield Enterprise Edition (EE) is unique, and groundbreaking software from Innovative Routines International (IRI) designed for companies, non-profit organizations, and government agencies which store sensitive data in multiple Excel® spreadsheets. CellShield EE will help you classify, search, select, secure, and scrutinize your changes to the sensitive data in every spreadsheet in your network AUTOMATICALLY.
Why is this necessary? When laptops fall into unauthorized hands or computer networks are breached, personally identifiable information (PII) stored in Excel files lies at risk of misuse and violation of a data privacy law. IRI CellShield EE prevents and nullifies these breaches by rapidly finding that data in every connected spreadsheet, and protecting it in place.
CellShield EE is the only full-featured, professional data discovery, masking, and auditing package for Excel 2010, 2013, 2016, and 2019 (plus Office 365) workbooks in your LAN. CellShield EE exceeds the security and scope of a single password by combining and automating all these extra capabilities (click to learn more):
Search network-wide for sensitive data on specified (as well as popular and saved) patterns.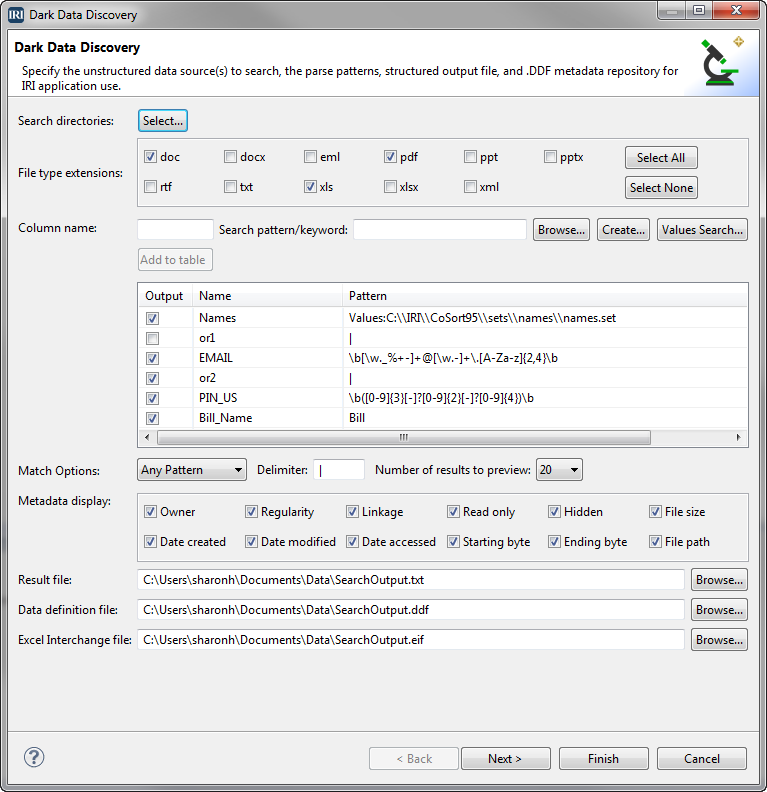 You can also search and mask PII floating within cell contents from the Excel side, too.
Identify and open all discovered patterns from and Excel worksheet, with room for commenting and auditing.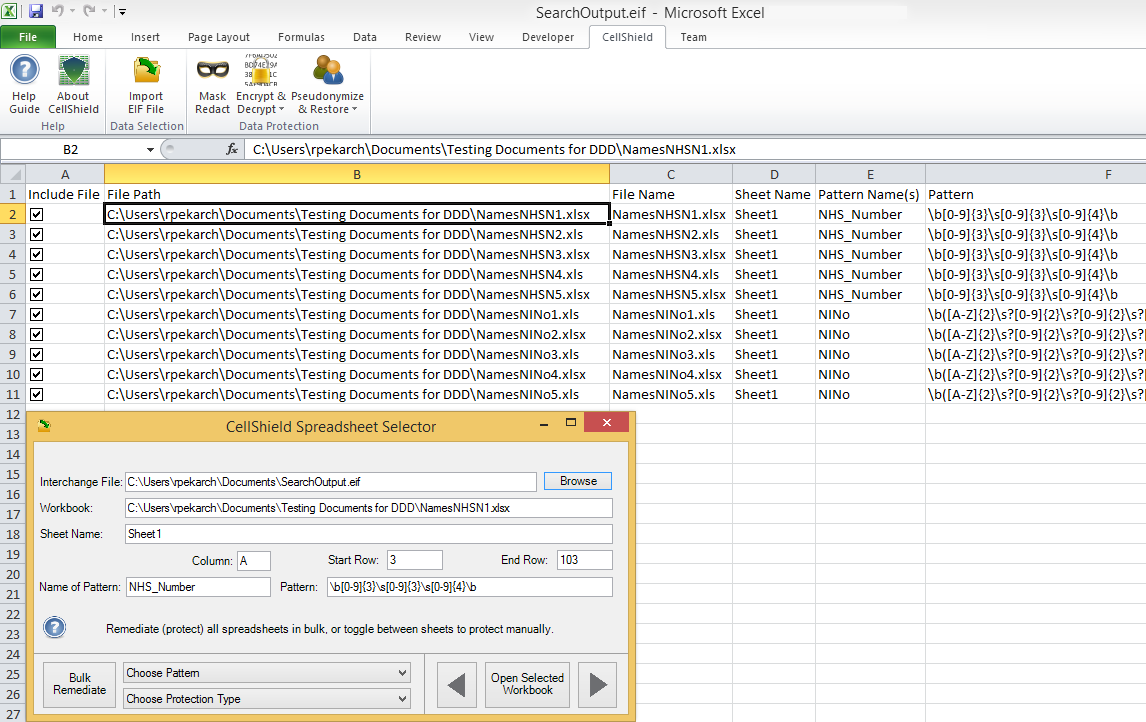 It is from this report and its "Spreadsheet Selector" dialog that you take and log all your protection actions.
Perform manual or bulk point-and-click encryption (and decryption), masking (full or partial cell, non-reversible), or pseudonymization (reversible and non-reversible) of the applicable ranges within the spreadsheets identified in the report.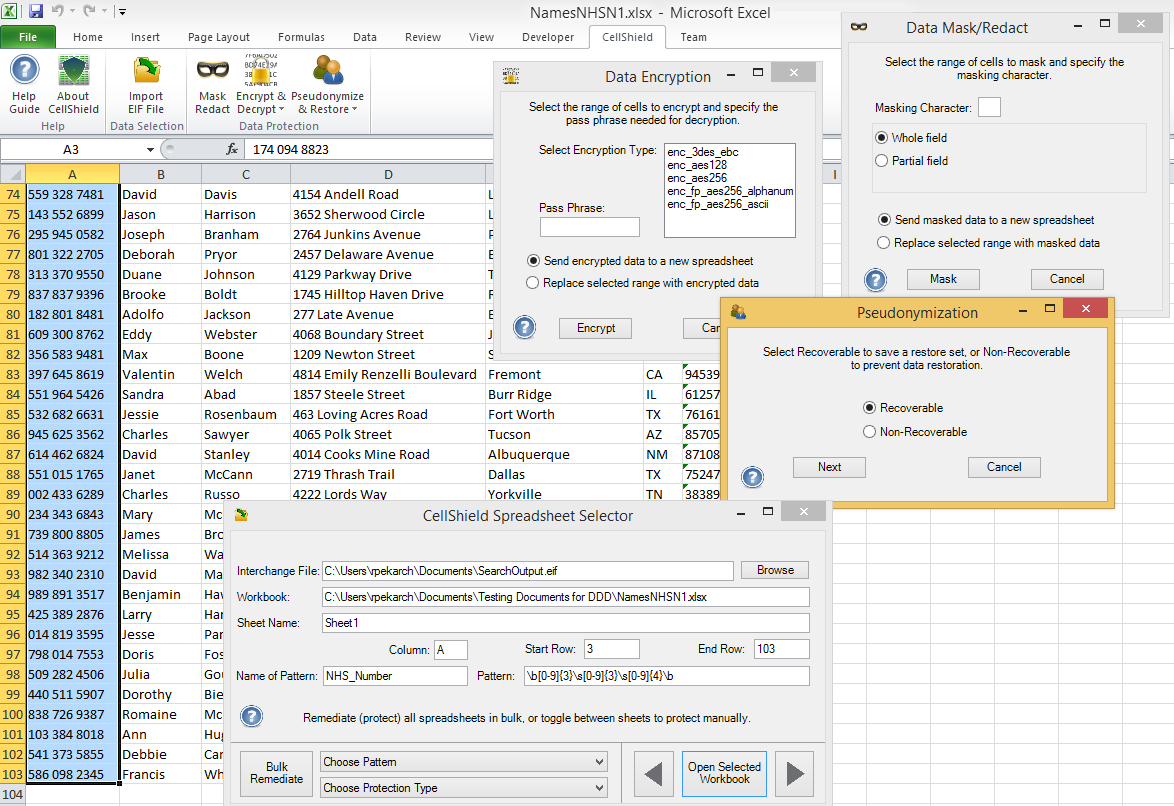 Toggle between individual workbooks and ranges, or select the rows you want and protect them all in the same way with one click. Redact in situ (where you overwrite the original cell value), or direct the protected result cells to another sheet.
Automatically create a securable log entry for the protection applied to each pattern identified in the report. New in CellShield EE 2, logging sources can be configured through a JSON file (which can be interactively managed from the Logging Settings menu). Potential output targets include the file system, email, Datadog, and Splunk. You can also use IRI DarkShield, priced similarly, to find, mask, and audit in Excel sheets along with many other unstructured data sources. DarkShield does not operate on the Excel-side for these kinds of ergonomics however.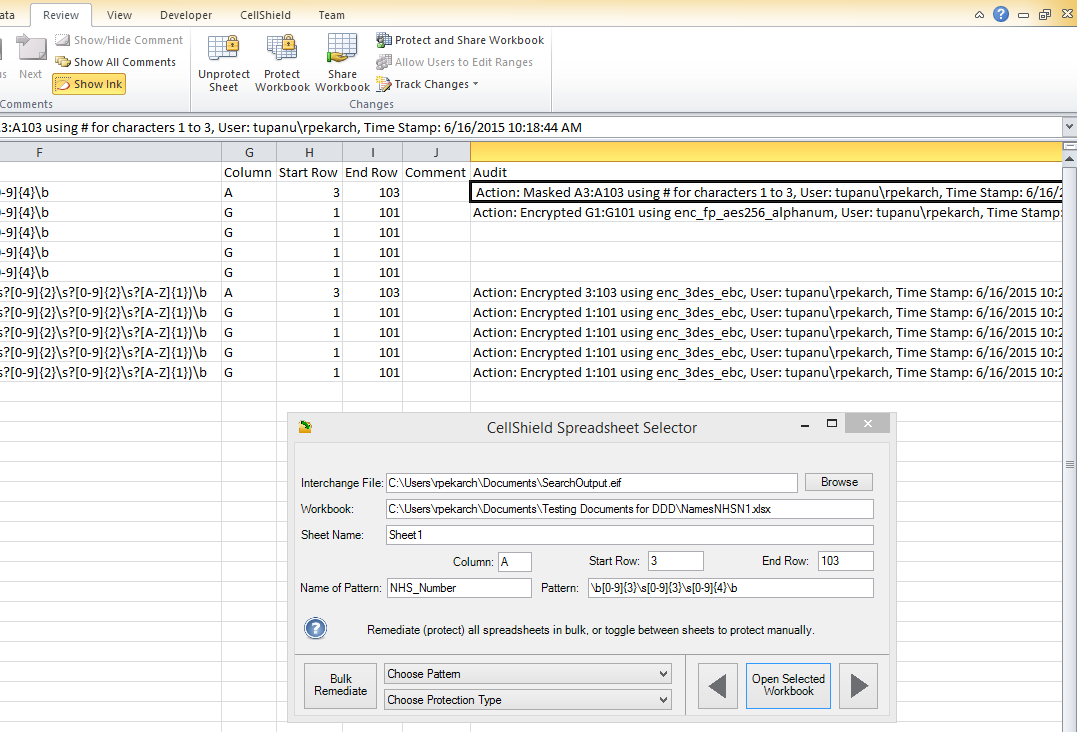 Every additional change to the cell contents is appended to its row in the audit column.
Note that the reversible functions supported in CellShield are compatible with those in IRI FieldShield (for protecting PII in multiple database and file sources statically or dynamically). That means what you conceal in one tool can be collaboratively revealed in a different system using the other tool.
CellShield EE 2 is available now. Contact us using the form below if you are interested in a demonstration webinar.
Pricing falls between $3,500 and $35K for perpetual use depending on the volume of networked sheets to scan and protect. CellShield EE 2 is offered at a discount to supported users of other IRI Data Protector Suite software products, and is included FREE within the IRI Voracity Data Management platform.
CellShield is a registered trademark of Innovative Routines International (IRI), Inc. Excel is a registered trademark of Microsoft Corporation. Both corporations are independent of each other.