Overview
DB2 UDB
Cassandra
Elasticsearch
MongoDB
MySQL/MariaDB
Oracle
PostgreSQL
SAP HANA
Snowflake
SQL Server
Sybase
Teradata
Challenges
You may face one or more of these time-consuming issues working with Snowflake: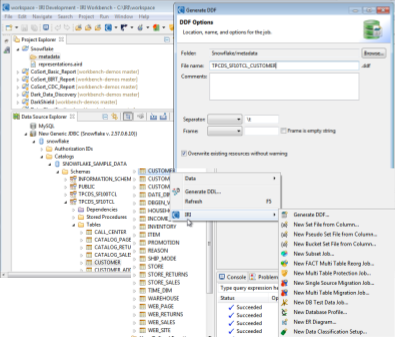 Data searches, profiling, and/or classification
Integrating or wrangling data for DW/BI ops
Data movement/migration to/from tables
Transforming or loading large tables
Change data capture or replication
Clustering or query performance
Generating smart, safe test data
Masking sensitive data
Specific performance diagnoses and tuning also take time and may affect other users. Finally, stored SQL procedures may also be programmed inefficiently, require optimization, then still take too long to run.
Learn more about all of these mapping and masking options in the IRI Voracity data management platform which includes these components here!